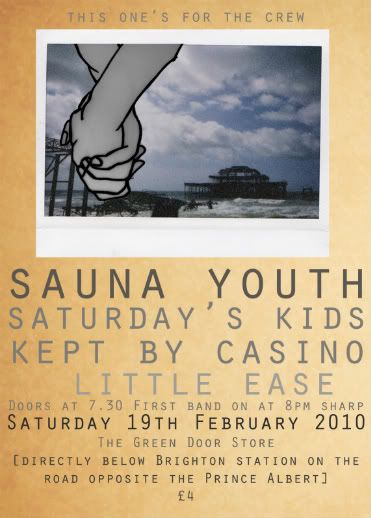 Sauna Youth
play scuzzy, garagey hardcore. They don't really sound like you'd expect them to; they tumble, they rage, they echo... It's all very weird and kind of difficult to describe them to people without making them sound incredibly pretentious. I think a lot of people were disappointed that Richard and Lindsay didn't do another band that sounded like
The Steal
, and therefore this band has been overlooked by
that
sort of audience, which is obviously a real shame.
Saturday's Kids
are a young band from South Wales who are probably sick to the back teeth about being referred to as a "young band from South Wales". They play aggressive, abrasive post-
something.
I really don't know enough about this sort of music. I think they're a bit post-punk, a bit post-hardcore... They sound like Pissed Jeans, they sound like an early Nirvana; I read a review of their most recent 7" on
Art For Blind
- which is really good, by the way - which compared them to Harriet The Spy. I hadn't considered that. Regardless, great band.
I've been friends with the boys from
Kept By Casino
for years. My first band played our first ever gig with their old band nearly seven years ago. The fact that we're still playing shows together after all this time whilst a lot of my friends at that time who were into our sort of music have dissipated is something that really keeps me grounded. Maybe I'm not wasting my time. KBC's new stuff is what they've building towards for a couple of years, they play unfashionable alt-rock influenced post-hardcore in a similar sort of vein as McLusky or The Jesus Lizard; but with the lyrical weirdness of Joan of Arc and the aggression of Refused or Death From Above 1979.
My new band is playing first on this show. We are called
Little Ease
and it's our first show. We play poppy, garagey hardcore. I yelp over the top and do my best not to sound like I'm in
Los Mendozas
.